Dear Friends and Family in Christ Jesus,
Greetings from the Popchenkos in Ukraine! The past few months were filled with many events in our family, two of them being especially significant: our move to a new place and the arrival of our fourth son. Matviy (mat-VEE) Yuriovich Popchenko arrived via c-section on February 28th, weighing in at 4 kilograms 100 grams (slightly over 9 lbs) and measuring 57 centimeters (22.4 inches) long – our longest baby yet. Wendy was shown the baby right away and I warmed him on my chest while the doctor stitched her up, then she got to hold and feed our son. The nurses were great, bringing Matviy to Wendy for feedings, until she was able to get around on her own and have the baby with her all the time. On the fourth day, I brought them home to three eager brothers. We praise the Lord that there were no complications and both the baby and Wendy are doing fine. Now our prayer is for Matviy's health and for wisdom to train this little one for the Lord: that he might grow up to love, trust, and serve our great God.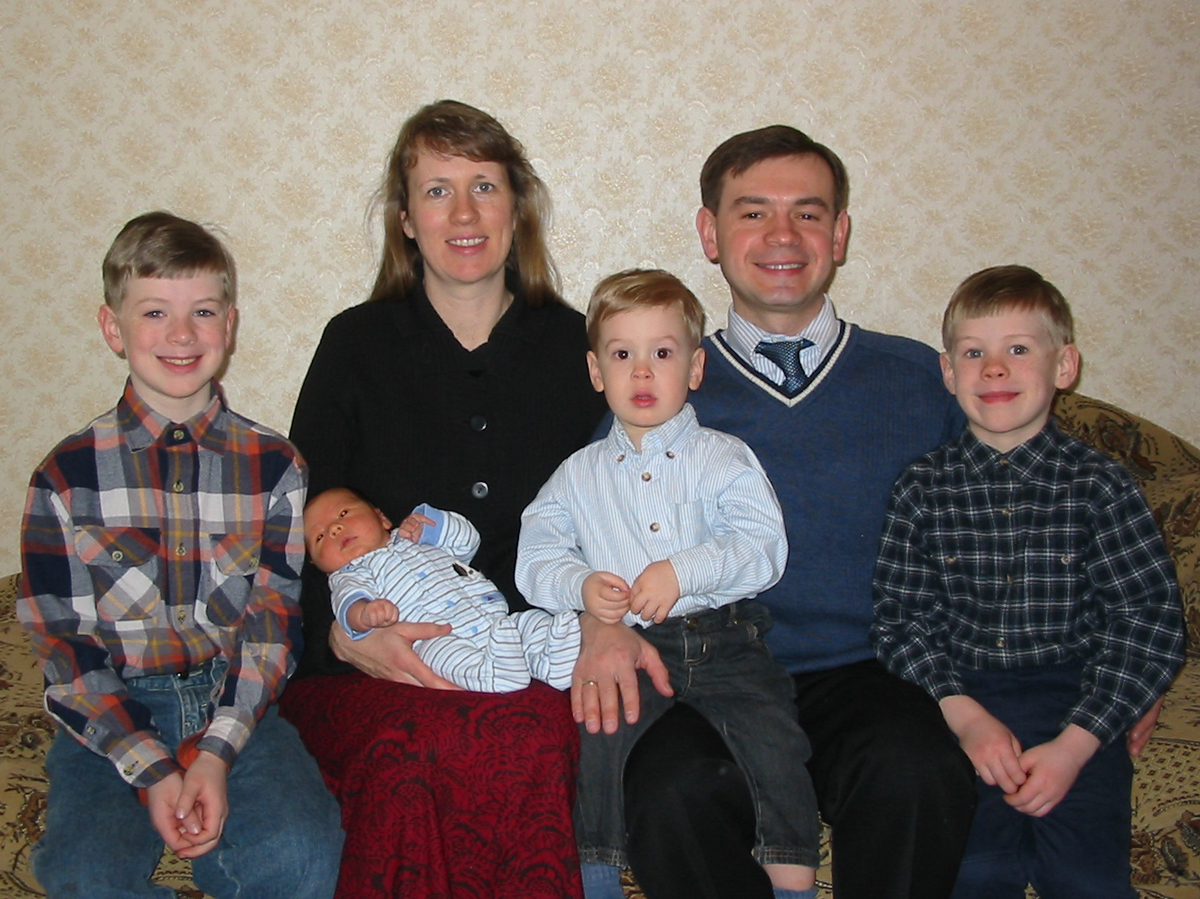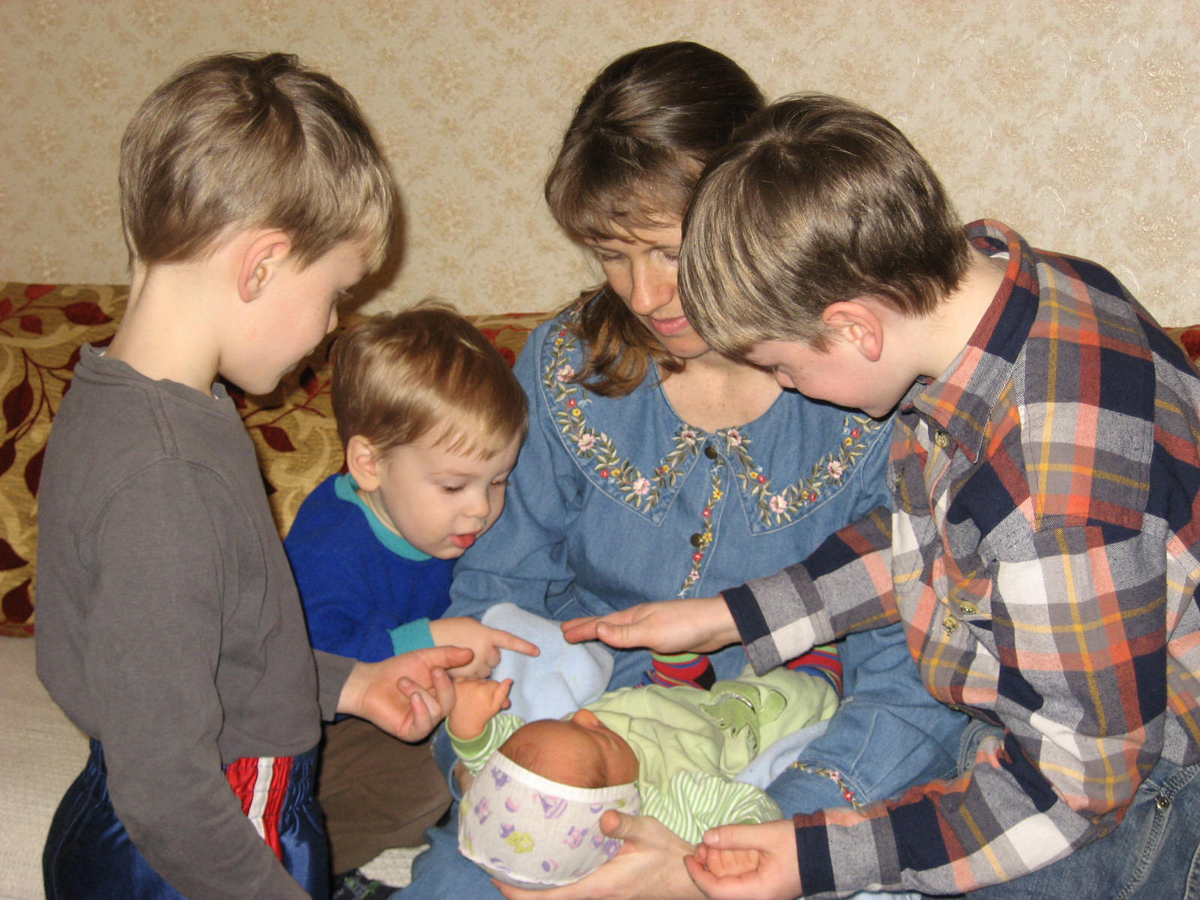 Fascinated older brothers
We are thankful for Wendy's mom being able to come help us for 3 ½ weeks. It was such a relief to know I didn't have to find someone to stay with the boys while I was at the hospital, not to mention take care of food preparation. To the thrill of our boys, Grandpa Knudson also came on March 10th to visit us for a week.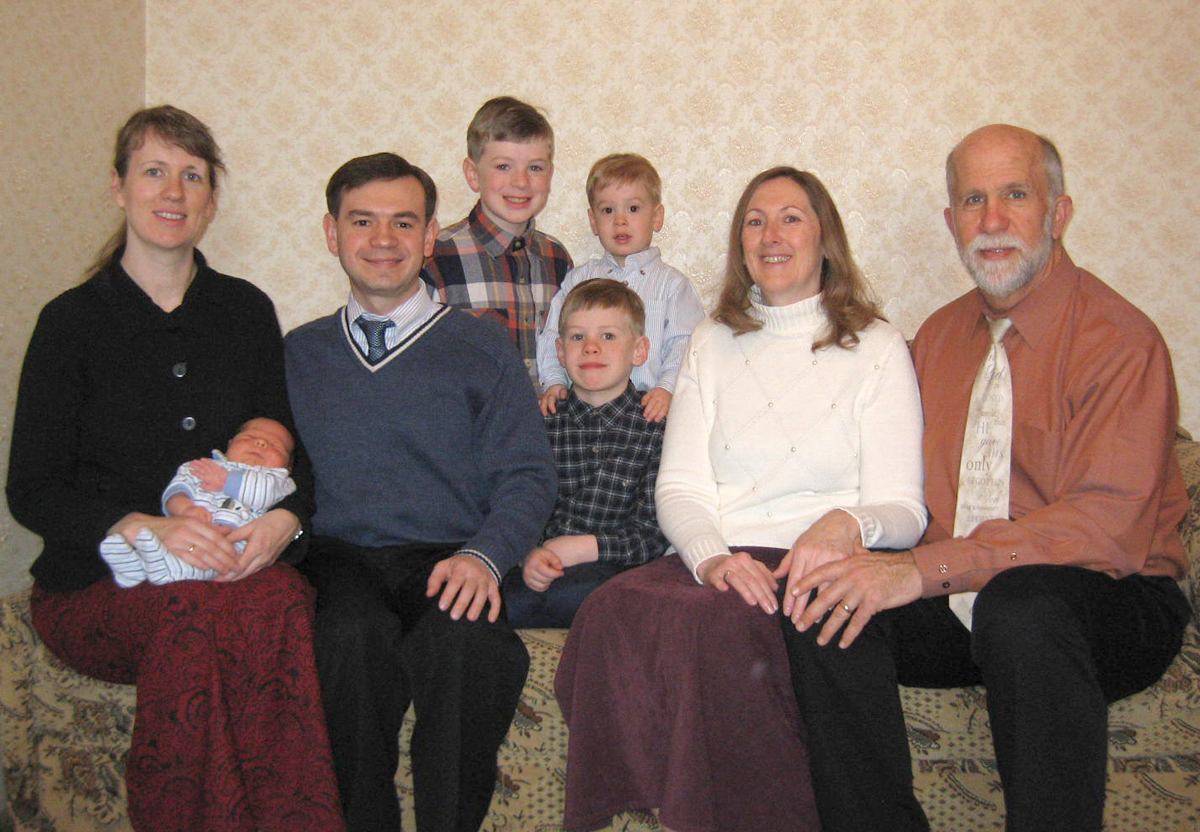 Wendy's parents with us
Three weeks before the delivery, Wendy slipped on the wet floor in our bathroom (the toilet had leaked), fell and hit her back against the bathtub. She hurt it so badly that for a day she could hardly move. The next day, she had an ultrasound done to check on the baby and to see if she had injured any internal organs but thankfully everything looked fine. We thought she would have an X-ray done after the delivery to see why her back hurt so much, but amazingly her pain went away completely after she had the baby. Thank you for praying for Wendy's back.
Just nine days before Wendy had the baby, we moved to our new house. After looking for six weeks without success and having lost any hope of finding a suitable house for us, a realtor called and said she had a house for rent. For a couple of days we hesitated to rent it, thinking it might be too hard on Wendy because of being so close to her due date. I called her doctor to ask his opinion and he urged us to move since living in a moldy habitation could cause the baby to have allergies for the rest of his life. We are so thankful to be living in a mold free-house! Our new landlord is very accommodating and agreeable… quite a change from our former landlady. Living in her house was by far the worst situation we've ever been in and this was the most unpleasant move we have ever had. We are just relieved to be out of there, especially after the landlady's parting 'scene' in which she accused of us ruining her house with mold (!), insisting that we remodel it. The Lord was merciful in providing us with some good Christian brothers to help us deal with this unpleasant situation as peacefully as possible. We know that many people were praying for our housing situation and we want you to know that God answered your prayers amazingly. Thank you for your intercession on our behalf.
By the grace of God, I was able to do the first draft of 11 chapters of Mark. One particular statement drew my attention for its uniqueness. In chapter 8 verse 2, Jesus says, "I have compassion on the multitude…" This is the only time when Jesus during His earthly ministry says, "I have compassion", first person singular (it is also recorded by Matthew). There are many references to His compassion in the third person. It is said that He was moved with compassion on the leper in Mark 1:41. Seeing the multitudes scattered abroad as sheep having no shepherd, He was moved with compassion on them in Matthew 9:36. He had compassion on the widow of Nain whose only son died in Luke 7:13. But this is the only place that is in the first person. In all those other places, it was a human observation, that He had compassion, only because it was manifested in that He did compassionate things. In this place, it is a first-person declaration, "I have compassion." Our Lord then is declaring that compassion is an attribute which He possesses. That sets God apart from every other false deity on the planet. Satan has no compassion, therefore he doesn't invent deities that are compassionate. You will not find in the religions of the world any deity manufactured by Satan that is by nature compassionate. That is a distinctive attribute of the true God. The compassion of the Lord Jesus Christ is shared by the Father and the Spirit. He is the "Father of mercies and the God of all comfort". The Holy Spirit is Himself the Comforter. What a privilege to serve this great and compassionate God!
Prayer requests and praises:
1. Praise the Lord for providing us with a suitable house…before the baby arrived.
2. Praise God for Matviy's safe birth.
3. Pray for me to have wisdom, protection and health, as I continue translating.
4. Please keep praying for my health issues (reflux, lower back).
5. Pray for us to find a larger reliable car for our growing family.
Thank you all for your faithful prayers and financial support. May God bless your families, churches and ministries as we each labor in our corner of the harvest field.
Your fellow-servants for Jesus' sake,
Yura, Wendy, Sashko, Yurko, Andriy and Matviy